My Blog
Posts for tag: nutrition
By Aberdeen Dental Associates
November 22, 2021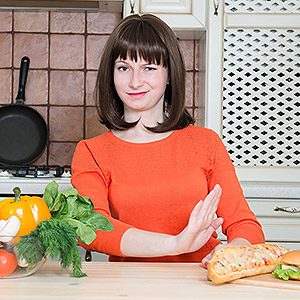 You're doing the right things to avoid the return of gum disease: brushing and flossing every day, dental visits on a regular basis and watching for symptoms of another infection. But while you're at it, don't forget this other important part of gum disease prevention—your diet.
In relation to oral health, not all foods are alike. Some can increase inflammation, a major factor with gum disease; others strengthen teeth and gums. Carbohydrates in particular are a key part of this dynamic.
The body transforms these biomolecules of carbon, hydrogen and oxygen into the sugar glucose as a ready source of energy. But glucose levels in the bloodstream must be strictly controlled to avoid a harmful imbalance.
When elevated the body injects the hormone insulin into the bloodstream to bring glucose levels into normal range. Eventually, though, regular injections of insulin in high amounts in response to eating carbs—known as "spikes"—can increase inflammation. And, inflammation in turn increases the risk and severity of gum infections.
So, why not cut out carbohydrates altogether? That might be akin to throwing out the proverbial baby with the bath water. A wide range of carbohydrates, particularly fruits and vegetables, are a rich source of health-enhancing nutrients.
It's better to manage your carbohydrate consumption by taking advantage of one particular characteristic: Not all carbohydrates affect the body in the same way. Some cause a higher insulin response than others according to a scale known as the glycemic index. It's better, then, to eat more of the lower glycemic carbohydrates than those at the higher end.
One of the latter you'll definitely want to restrict is refined sugar—which also happens to be a primary food source for bacteria. You'll also want to cut back on any refined or processed foods like chips, refined grains or pastries.
Conversely, you can eat more of a number of low glycemic foods, most characterized as "whole", or unprocessed, like fresh fruits and vegetables, or whole grains like oatmeal. You should still, however, eat these in moderation.
Better control over your carbohydrate consumption is good for your health overall. But it's especially helpful to your efforts to keep gum disease at bay.
If you would like more information on nutrition and your oral health, please contact us or schedule an appointment for a consultation. You can also learn more about this topic by reading the Dear Doctor magazine article "Carbohydrates Linked to Gum Disease."
By Aberdeen Dental Associates
March 07, 2021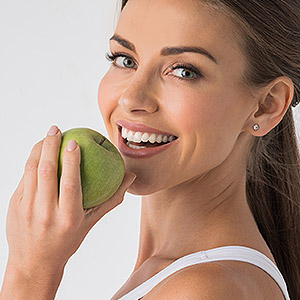 You're more apt to lose teeth because of periodontal (gum) disease and tooth decay than any other cause. But neither of these bacterial diseases have to happen: You can prevent them through daily brushing and flossing and twice-a-year dental cleanings.
But that's not all: You can also boost your dental care practices by eating foods that strengthen and protect teeth. On the other hand, a poor diet could reduce the effectiveness of your oral hygiene practices in preventing tooth decay or gum disease.
A diet that might lead to the latter is often high in refined sugar (sucrose), often added to processed foods and snacks to improve taste. But sucrose is also a top food source for oral bacteria, increasing their numbers when it's readily available. A higher bacterial population greatly increases your risk for tooth decay or gum disease.
On the other hand, certain foods benefit your overall dental health. Fresh fruits and vegetables, for example, are filled with nutrients and minerals like vitamin D or calcium that strengthen teeth against disease. And although they can also contain natural sugars, these don't pose the same problems as added sucrose due to the plant fiber you consume with them.
Dairy foods can also help you maintain healthy teeth and gums. Milk and cheese contain minerals like calcium and phosphorus, and a protein called casein, all of which strengthen teeth against decay. The enzymes in cheese stimulate saliva, which in turn neutralizes mouth acid and prevent it from harming enamel.
Some foods are also natural sources of fluoride, a mineral that strengthens tooth enamel. One example is black tea, which also, along with green tea, contains antioxidants that protect against cancer.
The best strategy for "tooth-friendly" nutrition is to pursue a diet that's high in fiber-rich natural foods and low in sugar-added processed foods. In practice, you'll want most of your diet to consist of fresh fruits and vegetables and low-fat dairy food, while minimizing foods with added sugar.
Following this kind of diet will certainly benefit your overall health. But it will also make it easier for you to prevent dental disease and keep your teeth and gums healthy.
If you would like more information on how nutrition can boost your dental health, please contact us or schedule an appointment for a consultation. You can also learn more about this topic by reading the Dear Doctor magazine article "Nutrition & Oral Health."
By Aberdeen Dental Associates
January 06, 2021
When you were a kid, a plate of green beans or carrots probably seemed less appealing than a handful of cookies or a bowl of ice cream. Mom or dad telling you to "eat your vegetables" was the last thing you wanted to hear.
Hopefully, you've made friends with fresh fruits and vegetables as you've grown up. But even if you're just acquaintances, these foods are nonetheless essential to good health, particularly your teeth and gums. Among other things, they're packed with vitamins and minerals that help prevent tooth decay, gum disease or even oral cancer.
Here's a sampling of dental health-boosting micronutrients and the foods you'll find them in.
Vitamin C. Found in a variety of fruits and vegetables, vitamin C boosts the immune system to fight infections like tooth decay or gum disease. It's also an antioxidant that lowers your risk of cancer.
Calcium. This mineral obtained through dairy products, bony fish, greens and legumes, strengthens teeth and bones. It can also improve nerve and muscle function.
Vitamin D. This vitamin helps teeth absorb calcium to make them less prone to decay. You can find this essential vitamin in dairy foods, eggs, fatty fish or sunlight.
Phosphorus. Like calcium, phosphorus also strengthens teeth and bones. You'll find it plentiful in dairy and meats, especially seafood and poultry.
Magnesium. This mineral helps teeth and bones absorb other minerals and can also help with enzyme function needed to avoid disease. You'll find it in nuts, legumes, whole grains, dark leafy greens, seafood and chocolate.
If you don't think you're getting enough of these and other nutrients, you can obtain them through dietary supplements. But do be careful: The Food and Drug Administration (FDA) can remove harmful supplements from the market, but only after consumer use has provided evidence that they're unsafe. And, you won't be getting fiber or other elements found in regular foods that your body needs to be healthy and function properly.
Still, if you think you need to supplement a nutritional deficiency, speak first with your doctor or dentist about it and what you should take. If at all possible, though, eat your veggies—your teeth and gums, as well as the rest of your body, will be the healthier for it.
If you would like more information on nutrition's role in dental health, please contact us or schedule an appointment for a consultation. You can also learn more about this topic by reading the Dear Doctor magazine article "Vitamins & Dietary Supplements."