My Blog
Posts for: February, 2020
By Aberdeen Dental Associates
February 20, 2020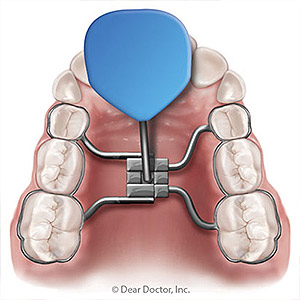 Every year many parents learn their "tweenager" or teenager needs their bite corrected, often with specialized orthodontics. Imagine, though, if these families could go back in time to when their child's poor bite was just developing to stop or slow it from forming.
Time travel may still be science fiction, but the approach suggested isn't. It's called interceptive orthodontics, a group of techniques and procedures performed during the early stages of jaw development. The focus is usually on getting abnormal jaw growth back on track, enough so that a poor bite won't form.
The upper jaw, for example, may be growing too narrow, reducing the amount of available space for tooth eruption. If it isn't corrected, teeth can erupt out of position. To correct it, an orthodontist places a palatal expander in the roof of the child's mouth (palate). The appliance applies gentle pressure against the inside of the teeth, which stimulates the jaws to develop wider.
The expander works because of a separation in the bones at the center of the palate, which later fuse around puberty. The pressure applied from the expander keeps this gap slightly open; the body then continues to fill the widening expansion with bone, enough over time to widen the jaw. If you wait until puberty, the gap has already fused, and it would have to be reopened surgically to use this technique. Ideally, then, a palatal expander should be employed at a young age.
Not all interceptive techniques are this extensive—some, like a space maintainer, are quite simple. If a primary (baby) tooth is lost prematurely, teeth next to the empty space tend to drift into it and cause the intended permanent tooth to erupt out of place due to a lack of space. To prevent this an orthodontist places a small wire loop within the space to prevent other teeth from moving into it.
These are but two examples of the many methods for stopping or slowing a developing bite problem. To achieve the best outcome, they need to be well-timed. Be sure, then, to have your child undergo an orthodontic evaluation around age 6. If an interceptive orthodontic approach is needed, it could eliminate the need for more extensive—and expensive—treatment later.
If you would like more information on treatments to get ahead of bite problems, please contact us or schedule an appointment for a consultation.
By Aberdeen Dental Associates
February 10, 2020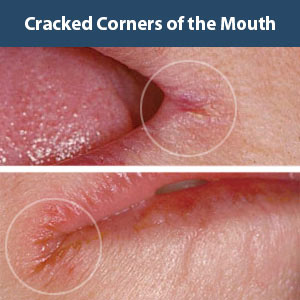 While a relatively minor health issue, cracked mouth corners (medically known as angular cheilitis) can certainly be irritating. Fortunately, you don't have to live with it—we can help reduce the discomfort and even make it less likely to happen in the future.
 Angular cheilitis is most characterized by redness and fissures (or cracks) in the skin at the corners of the lips. It commonly happens in younger ages (children to younger adults) because of drooling or complications from wearing braces. Older adults can also develop cracked mouth corners due to wrinkling around the mouth. The immediate causes are usually localized to the mouth and lip region, but it can sometimes arise from systemic conditions.
A case of angular cheilitis can also become infected, usually with a strain of yeast known as "candida albicans," which then intensifies inflammation and discomfort. This is usually due to interaction between saliva and the open fissures, helped along by people's tendency to habitually lick these cracks (hence the other name for cracked mouth corners, perleche, from the French "to lick").
The best way to treat angular cheilitis is with a series of applications of oral or topical antifungal medication. These may also be combined with steroid ointments that help retard redness and inflammation. If the infection involves the inside of the mouth, you may also need to use an antibacterial rinse until it clears up.
There are also things you can do to minimize future occurrences. Be sure to have missing teeth replaced or loose dentures refitted, and stay vigilant with daily brushing and flossing. You might also consult with a dermatologist about ways to treat wrinkling around the mouth. And easing those wrinkles could not only minimize your chances of developing angular cheilitis, but also give you a more youthful appearance.
Cracked mouth corners can be unnerving. But with a few simple steps we can help relieve any current discomfort and help you reduce the chances of another occurrence.
If you would like more information on cracked mouth corners and other oral irritations, please contact us or schedule an appointment for a consultation. You can also learn more about this topic by reading the Dear Doctor magazine article "Cracked Corners of the Mouth."